Dental Treatment and Covid-19
Since March 13th 2020, we have been following official guidelines from the National Institute of Public Health regarding Covid-19.
We are open as usual with infection control routines in accordance to the guidelines from the health authorities.
We only treat infection-free patients at the clinic. To protect you as a patient, as well as our employees, it is important that you do not enter Lille Grensen Tannklinikk if you comply with any of the following:
Have been in close contact with someone who has been confirmed infected with Covid-19 within the last 10 days
Are in quarantine
Have symptoms of respiratory infections or have been diagnosed with a respiratory infection
Suspect you are infected with Covid-19
Have travelled abroad within the last 10 days (applies to all countries, regardless of status)
If any of the above occur, please contact us on tel no. 22 33 90 90 where we will refer you to the appropriate authority and make sure you get the treatment you need.
All dental treatment is by appointment only, please do not show up at the clinic without notice. We encourage you to not arrive earlier than 10 minutes before your appointed time.
When you arrive at the clinic, it is important that you disinfect your hands with the disinfection made available. Also, before entering the treatment room, please disinfect your hands again.
If you have any questions, please feel free to contact us and we will assist you in the best way possible.
Welcome to Lille Grensen Dental Clinic!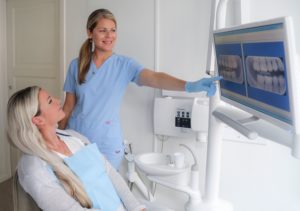 Information about the treatment and its costs before you start
Providing extensive information is important to us. We fully explain all procedures and options in advance, so that you can make informed and educated decisions.
Refund from the Norwegian Health Care System
We make sure that we have the latest information on what types of treatments are covered by Helfo (Norwegian National Insurance Scheme). We assess whether you can claim support from Helfo and help you file the right papers. This way we always make sure that your rights are taken care of.
State of the art dentistry
We take pride in the quality of work we provide. We continue our professional development and regularly update and improve our knowledge on research, techniques and approaches to give you advanced and personalized dental care.
This is our team
Dentist Eva Marie Ross, MNTF
Dentist Carl Larsen, MNTF
Dentist Mari Skaar Okstad, MNTF
Dental Hygienist Gabija Pasakarnyte, MNTpF
Dental Secretary Joril Johansen
*MNTF (member of The Norwegian Dental Association)
*MNTpF (member of The Norwegian Dental Hygienist Association)